"1928 was a big year—Central dedicated its sanctuary on April 1 and Bob was born in Faribault on November 2." So begins Bob Boldt's obituary, which, like everything Bob does, is unique, artistic and witty.
An only child, he was christened Robert Edward, after his mother vetoed "Herman." On Easter Sunday of 1943, he was confirmed at Trinity Lutheran Church (LCMS) in Faribault.
Art and music pervade every phase of Bob's life. From his studies at the Minneapolis School of Art, now MCAD, to 38 years as an art director/graphic designer for Dayton's and Target. His attendance at Minnesota Orchestra concerts, and musically oriented trips with Ovation Opera Tours to destinations such as Sarasota, Santa Fe, and Tanglewood, are among others.
While attending MCAD, he often visited Central to hear long time Central organist Marion Hutchinson, after hearing her on WCAL, the St. Olaf radio station. He later took private lessons with Marion.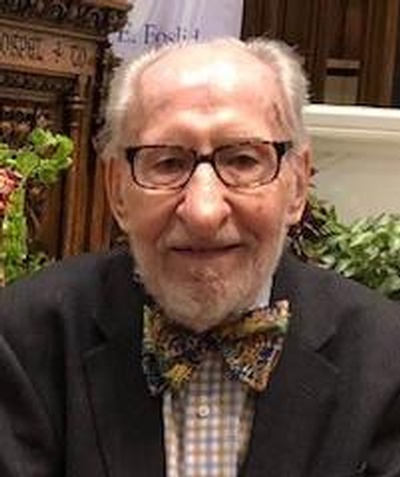 His church music career started as a pianist for his home church Grace Lutheran, in Rochester, Minn., where he and his parents were founding members. At Central, he played the piano for worship services conducted for the neighborhood by Pastor Cherian Puthiyottil.
Bob progressed from playing the piano in Rochester to a pump organ, then a one manual, two manual and finally a pipe organ at Grace. In fact, he had an organ in his Minneapolis apartment to get ready for Sundays in Rochester.
Bob retired from The Target Corporation in the 1980s, just when computers were coming in.
Bob has been very generous in designing logos and covers for Central, as well as the logo for Central Lutheran Church Foundation.
His Central committees include Fine Art, Funeral Reception, C3 Environmental, Call Committee, and was the underwriter of the electronic sign installed in Central's north plaza in 2016.
The Legacy Partners of the Central Lutheran Church Foundation can say "Thank you Bob" for providing for Central in many years to come.