Central Lutheran Church has been blessed with many faithful and generous parishioners. The late Dr. H. Mead and June Cavert are two who gave much of themselves to others, the community and the church.
June Sederstrom Cavert was born on June 27, 1921, a daughter of Joseph W. and Elsie Sederstrom of rural Beckville, near Litchfield, Minnesota. She attended the District 59 one-room schoolhouse through eighth grade, graduated from Litchfield High School and the University of Minnesota, and took graduate work in educational psychology and student counseling at the University of Minnesota and as a Danforth Fellow at the University of Missouri. 
Henry Mead Cavert was born March 30, 1922, the son of William Lane and Mary Mead Cavert of St. Paul. The family lived during most of Mead's childhood in Anoka, MN. After graduating from Anoka High School, Mead attended the University of Minnesota, earning a B.S. degree in agricultural biochemistry (1942), an M.D. (1951) and a Ph.D. in physiology (1952)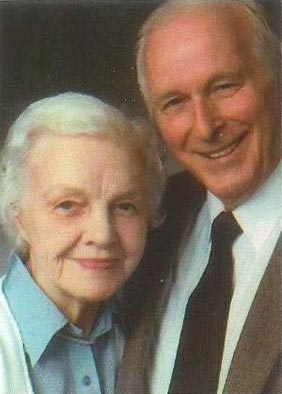 During the years of World War II, Mead served as an Army Air Corps weather forecaster in the China-Burma-India theater, and June supervised Lutheran Campus Ministry chapters on the home front at colleges from Michigan to California. Sweethearts from their university days, they were married on Jan. 27, 1946, ten days after Mead's return from military service. They had three sons, John, Harlan and Winston, who grew up in the family home in south Minneapolis.
As Mead advanced in his career at the U of M Medical School, June committed herself to supporting him and volunteering as a mentor and confidante for generations of medical students and their spouses. She taught Sunday School, actively served her church, and was a generous friend, financially and personally, of the homeless and the hungry through Central Lutheran's Restoration Center
After finishing his graduate studies in 1953, Mead enjoyed a career of almost four decades in the University of Minnesota faculty and administration, serving as professor of physiology and associate dean of the Medical School. During a "golden era" of the Medical School, Mead was its operational chief and served twice as its interim dean. He was co-author of a widely-used physiology textbook, The Machinery of the Body, 5th edition, published in 1961.
Mead also helped shepherd the Medical School program that trained hundreds of young physicians for practice in underserved communities in Minnesota. Mead and June enjoyed a mid-career sabbatical in Scotland in 1961-62 while Mead was a visiting faculty member at the University of Edinburgh — a unique horizon-expanding experience for their young children.
Mead and June were long active in many charitable and community organizations, especially Central Lutheran Church, Camp Amnicon, the University of Minnesota Medical School, and the YMCA. Mead was a long-time board member of the Minnesota Medical Foundation and other religious, civic and philanthropic boards and commissions, and June was a long-time board member of Fairview Hospital and Fairview Foundation.
The family remembered that past the age of 80, Mead could be found canoeing, camping and cooking over open fires in the Boundary Waters Canoe Area Wilderness with his children and grandchildren, and he continued to enjoy spending time along Minnesota's lakes since then. He loved singing around a campfire, at church or basically anywhere. He knew by heart an endless repertoire of hymns, camp songs, and the fight songs of a stunning number of colleges and universities.
Mead died November 4, 2016, at age 94 and June died June 5, 2019, at age 97.
The Caverts' love of global culture and outdoor life has been expressed in their philanthropic legacies. As generous with their estate as they were in their lives, they established the June and H. Mead Cavert Fund at the Central Lutheran Church Foundation, which will benefit youth, particularly Camp Amnicon, and global ministries.